Welcome to Cool Robots at Dartmouth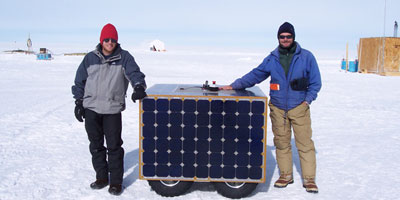 Our task, since the fall of 2003, has been the development of a mobile scientific platform for the harsh conditions of the Antarctic plateau. This research project has combined the efforts of undergraduates, international students, graduate research students, the Thayer School Faculty, as well as collaborated with the Army's Cold Regions Research and Engineering Laboratories (CRREL), here in Hanover, N.H.

The immediate goal of our research is the deployment of a working prototype to the Antarctic. The finished product is designed to navigate over 1000 km autonomously, using the abundant solar energy of the Antarctic summer to power its way over the plateau from the South Pole, where even summer temperatures hover between -40 and -20 C.

The long term goal is the development of a scalable, low-cost (<$20,000), semi-autonomous science platform for the creation of distributed sensor networks across the Antarctic.
March 11, 2013
Yeti Surveys Warren Cave
After some debugging and testing, we performed some autonomous GPR surveys at Warren Cave. Warren is one of several fumoralic ice caves that Mt. Erebus scientists enter to measure temperature, gas concentrations, and morphology. Our LiDAR team, Jed and Drea, went into Warren Cave a few weeks ago to perform green LiDAR scans of Warren's interior. I was lucky enough to accompany them and help out when I could.
Entrance to Warren Cave.
In order to enter the cave, we had to anchor ourselves to stakes driven into the rock in case the cave ceiling collapsed under our weight.
Inside Warren Cave looking out.
Yeti did pretty well on the snow over Warren, except for some icy patches here and there. We set up a mountain tent as a staging area for Yeti's electronics, including a large DC car battery, an inverter, an extra GPR, extra laptop batteries, and extra Ultralife batteries.